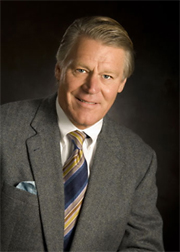 Twenty years after the first edition of Breeds of Cattle, it still holds true that Herman Purdy was known as the world's greatest cattle judge, having judged livestock in all fifty of the United States. As a well-known international judge he worked in England, Ireland, and Scotland, as well as France, Brazil, Costa Rica, Mexico, and Argentina. (It was through Herman's contacts that I enjoyed a study abroad program, living with the Fevres of Buenos Aires---"mi hermano de cuarto" being Dr. Eduardo Fevre---head of the Limousin Society in that country). Among the many honors Herman received was to be named to the Saddle & Sirloin Club Portrait Gallery in 1984. Representatives from some of these international breed associations paid tribute to him by attending the Sunday evening ceremony. It is the Everett Raymond Kinstler portrait in this volume that hangs at the Club, located at the Kentucky State Fair Grounds in Louisville. His reputation as a cattleman led him to meet several US Presidents, including Dwight D. Eisenhower, with whom he developed a special working friendship raising Angus cattle on his Gettysburg Farm. Another interesting friendship developed with the Queen Mother of England and her Castle Mey herd in the north of Scotland. And it was as a friend that Herman was exceptional. At his Saddle & Sirloin dinner he credited the richness of his life to the fact that he was fortunate enough to have had three families in his lifetime; namely, the Purdys, the Jordans, and the Dawes'. I would argue that he had four, and add the Moxleys of Maryland to the list.
As an educator, Herman was beloved by his students, many of whom are national and international leaders in the livestock industry. Some have become state legislators, secretaries of agriculture, members of Congress, breed association secretaries and executive vice presidents, and heads of department at major universities. Many students have become reputable judges, also known around the world. Certainly one of these men is Don Hutzel, long-term employee of the artificial insemination industry and editor of this and the original volume of Breeds of Cattle. Don has become perhaps the best- known individual to judge both beef and dairy cattle in the nation on a major level. Co-author of this edition, Dr. Robert "Bob" Hough, Executive Secretary of the Red Angus Association, grew up on a beef cattle farm, also in Huntingdon County, PA. He was involved in the design of the industry's "Total Herd Reporting" program and under his leadership in 2002 Red Angus released the industry's first Reproduction Sire Summary. Bob wrote the book The History of Red Angus. It has been a privilege working with these men.
It was Herman's contention that the most important goal in life is like that in breeding cattle itself; namely, that the next generation become better than the last.
Personally, I have continued management of Huntingdon Farm through the use of pure-bred Angus cattle with two well-known cow families in particular; the Dixies and the Duchesses. Through artificial insemination we have descendants of each, making up most of the herd of cows. It is startling to remember that one Dixie cow here, sired by Penn State Power Play, is the dam of bulls in Argentina, Australia (Tasmania), and New Zealand.
It was through conservation practices implemented here on the farm and the notoriety of the breeding program that I was asked to participate in a year-long visioning session (1993) for the Heinz Endowments Environment Program. Following the death of Senator John Heinz in 1991, his widow, Teresa Heinz Kerry (This Moment on Earth) contacted environmental leaders from different disciplines---Amory Lovins (Rocky Mountain Institute), transportation; Bill McDonough, architecture and design; Paul Hawken (The Ecology of Commerce and Blessed Unrest), environmental enterprise; David Orr (Ecological Literacy), environmental education; John Oliver, The Western Pennsylvania Conservancy and subsequently Secretary of the Department of Conservation and Natural Resources; Patrick Noonan, The Conservation Fund and others; to provide guidelines for the newly-formed Heinz Endowments Environment Program. My contribution to the committee was experience in having utilized existing Farm Service Agency conservation practices on the farm. In my mind, this was a very erudite group, with one exception, and I was proud to be a participant. I will always be grateful to staff at the Endowments for including me; namely, Frank Tugwell, now President of Winrock International, and Andrew McElwaine of the Southwest Florida Conservancy.
A major outcome of this visioning year was to acknowledge that in the 21st century the most important commodity needing protection is fresh water. This is a regional as well as a global problem, and I was hired to create the Western Pennsylvania Watershed Program, now the Foundation for Pennsylvania Watersheds---a small grants program to address water quality issues in this state. It has become a model for utilizing small grants to leverage larger agency programs to address water quality and quantity issues, managing on a watershed basis; a commodity that must remain sustainable.
Many of the programs we fund are to abate sediment and nutrient loadings into waterways through BMPs, Best Management Practices such as rotational grazing, cattle crossings, streambank fencing, barnyard restoration, and use of photo-voltaic panels for well water withdrawal, keeping livestock out of streams. However, in Pennsylvania, the number one water quality issue is abandoned mine drainage created from old mine discharges and from the 250,000 acres of scarred land that is toxic and producing acid mine drainage each time it rains. My work has led me to secure federal funding through the Abandoned Mine Lands Fund reauthorization to reclaim this acreage, and one imagines what it would do locally for these lands to be productive either for cattle grazing or as working forests to improve water quality.
Cattle are a sustainable resource, providing many useful products and the interesting concept of separate breeds relates to history, ecosystem of origin, genetics, forage conversion, soil type, slope and many other disciplines.
I am fortunate to be able to share this updated version of Breeds of Cattle and thank my colleagues Don Hutzel and Robert Hough for their participation. My wife Katie provides all the support needed to have a rewarding life. Personally, as a sire, I have a son John who loves the farm, is physically active, has a great appreciation for good cattle, love of natural resources and demonstrates the goal of life taught to me---that the next generation become better than the last.

R. John Dawes
EditRegion5