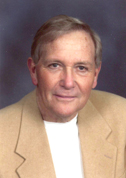 From a very early age, Don knew what he wanted to do for a career – spend his life working with cattle. From about the age of six, he spent holidays and summer vacation on his grandfather's farm in southwestern Ohio where he and my uncles farmed and bred a purebred herd of Jersey cattle. They were hard working, "good people" and did things right. That desire became a reality that has led Don down many roads associated with the bovine world.
He schooled at Ohio State University and Pennsylvania State University and graduated from Penn State with a BS in Animal Science. It was in these collegiate years that his interest shifted to purebred beef cattle. At Penn State, he lived and worked on the University farms. He was active in the Block and Bridle Club and was a member of their judging team. Many years of active involvement in the cattle industry passed and in 1996 Don was fortunate to be awarded the Distinguished Alumnus Award in Animal Science from Penn State.
His career has included managing a purebred Shorthorn herd, Acadia Farms in Northfield, Ohio and a purebred Angus herd at Holiday Farm in Ada, Michigan. During this period, he judged and showed cattle extensively and was totally involved in marketing cattle through private treaty and auction sales.
In 1971, another fork in the road took him into the field of artificial insemination – every phase of it – at Noba in Tiffin, Ohio. Don worked with both beef and dairy bull procurement, advertising, genetic matings, and had international travel. He also served on national beef and dairy committees.
Currently, Don works on a contract basis with Accelerated Genetics in Baraboo, WI doing herd matings, providing AI clinics, and other assignments.