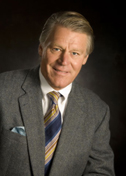 .....John Dawes was born in Baltimore, Maryland, grandson of DeWitt E. Kemp, one of the founders of Cloverland Farm and Dairy. He graduated with a bachelors degree in Education and a Masters's degree in Education from Penn State University and bought his first Angus heifer, PS Georgina 361 in 1969. In 1970 he purchased a farm in Huntingdon County, Pennsylvania along with Herman Purdy and his brother Donald DeWitt Dawes. The breeding herd of Angus cattle had many championships including both calf champions at Denver's National Western Livestock Show in 1985. The Huntingdon Farm Duchess and Dixies factor in the pedigrees of many champion Angus cattle in Argentina, Australia, and New Zealand.
.....Implementing many conservation practices on the farm, Dawes was asked to participate in a year long visioning process for the Heinz Endowments Environment Program, representing agriculture and was then hired to create the Western PA Watershed Program, now the Pennsylvania Foundation for Watersheds. This small grants program has won numerous awards for watershed projects, such as rotational grazing systems for livestock, photo-voltaic use for well-water withdrawal, planted riparian zones for nutrient uptake and abandoned mine drainage abatement projects, to address the number one water quality problem in the state.
In 2006, Dawes was successful in leading the national re-authorization of the Abandoned Mine Lands Fund, bringing $1.4B to Pennsylvania in mandatory spending, to restore the 250,000 acres of toxic, scarred land due to the impacts of historic coal mining. These abandoned mine sites degrade 4600 miles of rivers and streams throughout the state. This is national legislation where coal companies pay a small per ton fee to the Department of Interior to mine coal and the funds are distributed to the states to address historic sites before SMCRA (Surface Mining Control and Reclamation Act) was enacted in 1977. The reauthorization has a mandatory spending provision, allowing states with this toxic problem to address these dangerous sites for the next 14 years.  As Executive Director of the Foundation, Dawes directs the match funding for this federal initiative within the state of Pennsylvania.
Appointments include Alternate Commissioner on Tom Ridges 21st Century Commission on the Environment, Gubernatorial Appointee to the Citizens Advisory Council for the Chesapeake Bay Commission, Member of the Federal Sustainable Water Resources Roundtable on Indicators.
.....Most recently, the farm received the Governors Award for Conservation from Governor Ed Rendell, Secretary of Agriculture Dennis Wolfe, and DEP Secretary, Kathleen McGinty. For work on reauthorization of the Abandoned Mine Lands Fund, Dawes received the states 2007 Conservation Leadership Award.
Dawes continues to breed Angus cattle on the farm, with his wife Katie, and his son John attends Juniata College and is a graduate of Mercersburg Academy.
EditRegion5