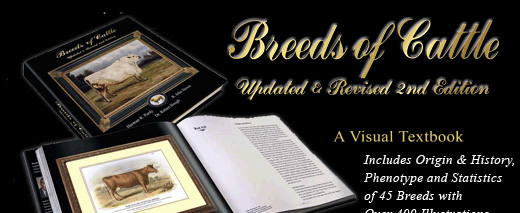 Released: Now available for same day shipping!
Breeds of Cattle, 2nd Edition

by
Herman R. Purdy, R. John Dawes, Dr. Robert Hough
with Revisions by Don Hutzel
Foreward by Holstein U.S.A.'s CEO John M. Meyer
The highly-anticpated second edition of Herman Purdy's classic 1987 Breeds of Cattle is now avilable for same day shipping. Completely revised, updated, and expanded text by John Dawes and Dr. Bob Hough includes twelve additional breeds, bringing the grand total to forty-five with a page count of 400.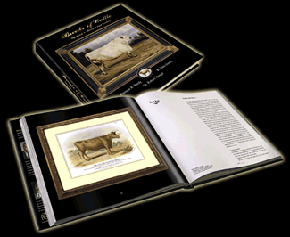 The new edition is fully illustraed with over 400 color and B&W images, including reproductions of rare historic 19th century paintings depicting what the older breeds might have looked like as well as modern ideal full-color formal portraits of a mature bull and cow of each breed to complement the thorough and engagingly written text. The book's breed association authorized documentation includes the history, origin, and the phenotype of each breed as well as current statistics.

Here is what people are saying about the 2nd Edition of Breeds of Cattle:
"This is an art book that's both beautiful and instructive. It's a fun reference that you'll definitely want on yur coffee table."
--Joe Roybal, Editor, BEEF magazine--
"If you love cattle and cattle breeding, then you will treasure this book."
--Lee Leachman, Leachman Cattle of Colorado--
"This is the most complete & informative book of its kind and every university, high school, public and private library should possess this unique book to educate the young and old."
--Frank Graves, Virginia Department of Agriculture and Consumer Services--
"This beautiful book is an absolute classic cattle reference and is a must for any cattleman's library."
--Glen Klippenstein, CEO of the American Chianina Association--
"This book is a must, I highly recommend it to anyone who has ever had an interest in cattle"
--Raul Tellez, New Mexico Department of Agriculture--
"The updated and revised edition of Breeds of Cattle is not only a fascinating history of the origin and development of some 45 breeds of beef and dairy cattle. It is also an impressive pictorial account, telling the story of cattle through the centuries in striking photographs and historical paintings."
--Dale Lasater, Lasater Ranch--
"This magnificent book simply cannot be perused casually. Open it anywhere, surrender to the joy of fine historic and contemporary paintings, then settle in for compelling discussions of bovine genetics, history, and geography."
--Jay Dusard, photographer/author
The North American Cowboy: A Portrait, Open Country, and Horses.--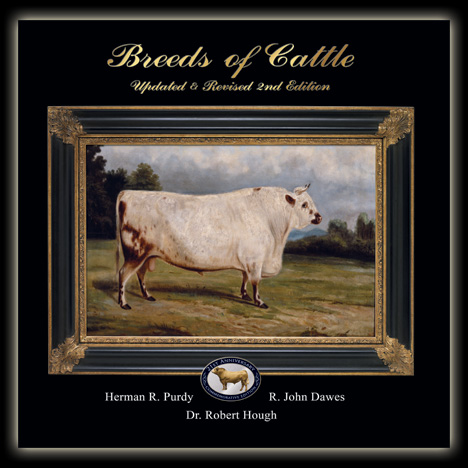 The portraits of Durhams pictured on the front and back covers, for example, were taken from Purdys personal art collection and were chosen because of the Durhams prominence in so many contemporary breeds. 
The books authorized documentation includes a brief history and origin of the various breeds, along with discussions of phenotype and statistics supplied from the appropriate associations.

Author Herman R. Purdy, Professor emeritus at Penn State University, was a renowned cattle judge in all fifty of the United States, as well as Canada, England, Scotland, Australia, New Zealand, Argentina, Brazil and Costa Rica. He was also a successful consultant to clients as varied as President Eisenhower and the Queen Mother. Before his death on June 30th, 1985, Purdy began a book on breeds of cattle organized by an association of registry in the United States.  He envisioned a work that would include essential information required by specialists in the field, as well as one that would appeal to general readers by virtue of its wealth of historical detail and visually-pleasing presentation.  

Breeds of Cattle offers a unique and colorful look at the history of cattle breeds and their development throughout the centuries.  It is a one-of-a-kind volume that will be highly prized by new readers, as well as the proud owners of the ground-breaking first edition..